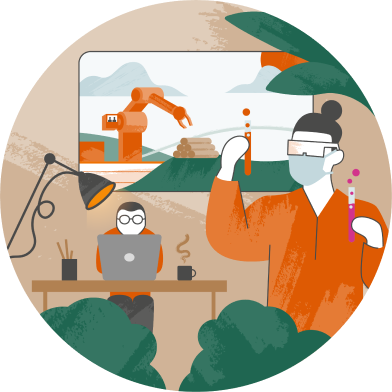 Redesigning Sweden
Sweden is a vast country. A nation which heavily depends on its export industry. One of its main challenges has always been overcoming long distances. But thanks to an efficient infrastructure, modern business environment, and a spirit of innovation Sweden is now booming.

We want to redesign the Swedish map and shorten the distances along the strategically important and expansive east coast north of Stockholm. We want to create a sustainable rail network which will help to connect the extensive east coast north of Stockholm to the rest of Europe. We want to make it easier for people to be able to choose where to live and where to work. We want visitors to be able to see more parts of Sweden. And by building this double-track rail way, people will be able to do so safely, reliably, and in an environmentally friendly manner.

The goal is to have the railway completed by 2030. But for this to happen, the requisite decisions must be made no later than spring 2018.
The bottleneck of the country
Expanding the 270 kilometer long single-track railway to a double-track railway would allow for an increase from a mere 70 trains a day to well over 200, integrating it fully with the already existing state-of-the-art Bothnia line to the north of Sweden.

It would provide a reliable and safe way of delivering goods to the rest of Europe, vital for the future growth of the European economy. And at the same time relieving the E4 highway of over 1500 carbon dioxide emitting trucks — every day!

Double tracks bring cities together

In addition to the increase in transportation capacity, the expected travel times would be cut by half. With the double-track railway in place you would be able to travel from Stockholm to Sundsvall in just two hours, compared to four hours at present. This would help bring the already expanding cities along the East coast closer together, thereby expanding the area where people work and in turn change how they do business.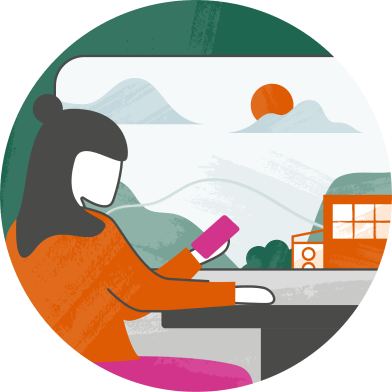 Growing Tourism
The tourism in Sweden is a growing export industry. More and more Europeans are interested in exploring Sweden's unique landscape and our active and environmentally progressive lifestyle.

Since 2000, the total export revenue from tourism has increased by 194 percent, which is more than three times as much compared to the domestic tourism.

Among some of the growing attractions we have the Arctic Mountain landscape in the north of Sweden, clean, crystal clear lakes and charming cities like Härnösand and Hudiksvall.

The north of Sweden has the potential to attract even more European tourists. With a double-track railway between Gävle and Härnösand visitors can board a comfortable train at Stockholm Central Station or Arlanda Airport and within a few hours they could experience the breathtaking High Coast north of Sundsvall, the highest coastline in the world.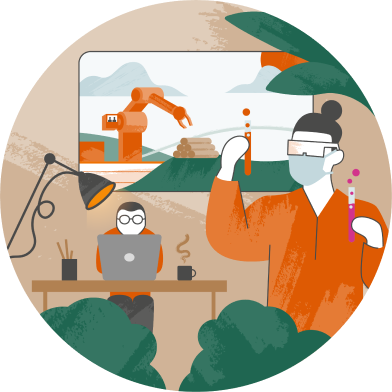 A win-win solution
For Sweden to continue to grow and develop as a country trade and communication are essential. In addition a close connection with Europe is vital in order for innovation and inspiration when developing new ideas.

In return, Sweden has a lot to offer. A part from the natural resources such as iron and the high quality forest industry, Sweden is also a heaven for tech start ups. In 2017 Sweden topped the Forbes list of Best Countries for Business, partly thanks to the young, innovative music and gaming industry. It is a country that offers a great place for businesses and people to grow and develop.

One of Sweden's biggest issues is the distance from north to south – 2000 kilometers. In order to continue to be a contributor in making Europe a modern, flourishing, sustainable and well connected society we rely on green, efficient transportation to bring us together.

By building a double-track railway on the East Coast Line we are definitely taking a step in the right direction. We think it is a win-win solution where we have the opportunity to give people and companies not just from Sweden, but also from the rest of Europe the possibility and flexibility to choose how to and where to live, work and do business.
Co-financing from EU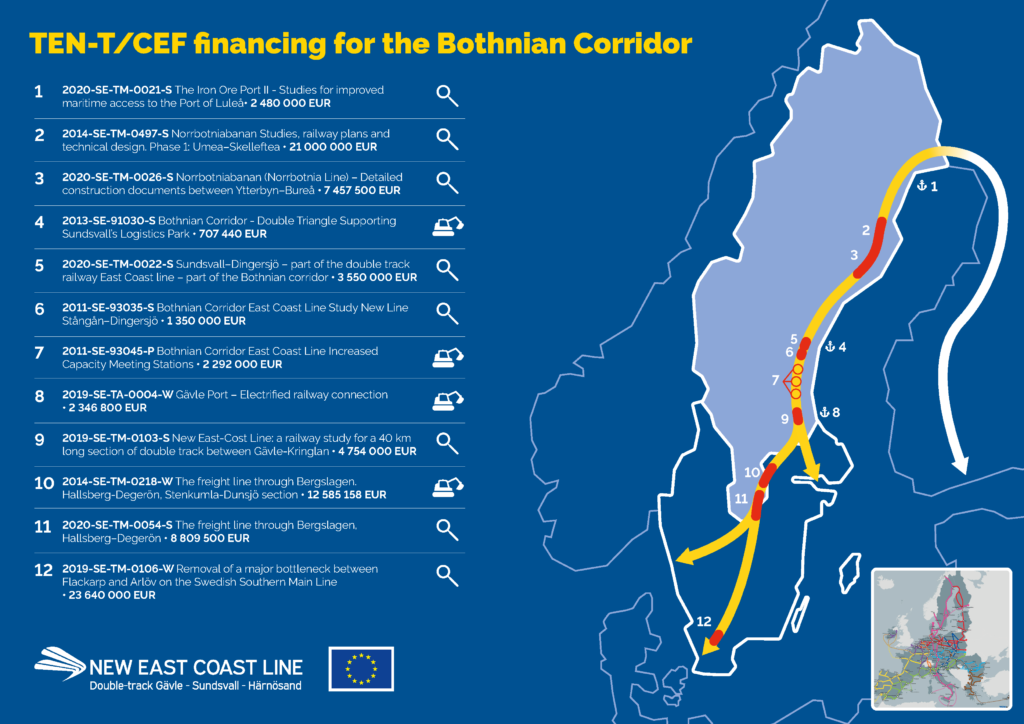 (4) Bothnian Corridor – Double Triangle Supporting Sundsvall's Logistics
Decision: 2013-SE-91030-S
Amount: 707 440 EUR
Contract Period: 2014-08-31 to 2015-12-31
Type: Study
The objective of the project was to carry out rail studies for the construction of two triangular junctions on the TEN-T network in Sundsvall. The output was a railway plan for Bergsåker, a localisation study for Maland as well as a railway plan for the Tunadal track connecting the main line to the port of Sundsvall.
Present state:
The triangular junction at Bergsåker is now completed and traffic started in 2020.
The Maland study resulted in a railway plan that gained legal force in January 2020. Works have been procured and is on-going. Planned start for traffic is October 2023.
Electrification and upgrading of the Tunadal track are on-going and will be completed during 2023.
(5) Sundsvall–Dingersjö – part of the double-track railway East Coast Line and part of the Bothnian Corridor
Decision: 2020-SE-TM-0022-S
Amount: 3 550 000 EUR
Contract Period: 2020-05-04 to 2023-12-31
Type: Study
The project consists of a railway plan, project design documents and construction documents for a new double-track between Sundsvall and Dingersjö. The construction documents form the basis for the procurement of contractors for the construction stage of the project. In this project there are no alternative terrain corridors to be studied. When planning the new double-track railway, the following technical conditions must be considered:
14 km long railway
Passage of burial mound in Nolby (national interest)
930 m long railway tunnel through Vapelberget.
300-meter-long bridge with four spans
Launch of a railway bridge over a four-lane road, E4
Speed of 250 km/h
(6) Bothnian Corridor East Coast Line – Study New Line Stångån-Dingersjö
Decision: 2011-SE-93035-S
Amount: 1 350 000 EUR
Contract Period: 2012-12-04 to 2014-12-31
Type: Study
The objective was to carry out studies in order to get necessary permits for the construction of a double-track between Stångån and Dingersjö. The project consisted of the following components:
Railway plan and technical studies for a new 2,8 km single-track line between Stångån and Dingersjö. The railway plan also considered the option to expand to a double-track and a meeting station at Dingersjö.
Technical design documents for two new bridges dimensioned for a double-track in a new location.
Road feasibility study and workplan (combined) including technical studies for a modified alignment of the old E4 road. The old E4 continues to be used as a local road. Construction of the double-track will be carried out during 2022.
Read more: Bothnian Corridor – East Coast Line – increased capacity. Study new line Stångån-Dingersjö
(7) Bothnian Corridor East Coast Line Increased Capacity Meeting Stations
Decision: 2011-SE-93045-P
Amount: 2 292 000 EUR
Contract Period: 2012-04-12 to 2013-12-31
Type: Production
The objective of the project was to increase the capacity of the East Coast Line to accommodate existing and expected new traffic by building three new 750 meters meeting stations. They will be part of a future double-track on the East Coast Line.
(8) Gävle Port – new electrified railway connection
Decision: 2019 SE -TA-0004-W
Amount: 2 346 800 EUR
Contract Period: 2019-05-01 to 2021-12-31
Type: Production
This project is part of a larger global project intending to develop the port of Gävle further and increase its capacity. The port of Gävle, owned by the municipality of Gävle, has a mission to provide efficient infrastructure to terminal operators, freight owners and other transport and logistic actors. The existing non-electrified railway from the port of Gävle to the East Coast Line has become a bottleneck affecting not only the capacity in the port but also the entire national freight transport system. The necessity to change from electric to diesel locomotives when entering the freight yard causes delays in transport times.
Read more: Gävle Port – new electrified railway connection
(9) New East-Cost Line, a railway study for a 40 km long section of double-track between Gävle–Kringlan
Decision: 2019-SE-TM-0103-S
Amount: 4 754 000 EUR
Contract Period: 2021-04-01 to 2023-06-30
Type: Study
The objective of the project is to study the expansion to the 12,5 km double-track between Sundsvall and Dingersjö, supplemented with meeting stations in Stockvik and Kvissleby. The project includes the development of project design documents, railway plans and Environmental Impact Assessment (EIA) for the expansion to double-track as well as the construction documents and tender documents for such construction works between Dingersjö and Sundsvall.
Read more: New East-Cost Line, a railway study for a 40 km long section of double track between Gävle-Kringlan
---
Q&A: The New East Coast Line

, w
hy is a railway in northern Sweden essential for Europe?
Read more